One of the most curious and often unique aspects of wildflower identification is the way they are named and classified. Granted, everyday hikers like myself do not usually use scientific terms. But I find great delight, if not humor, in the names of some of our plants.
I was musing about this when my sister and I were emailing photos of wildflowers back and forth as spring unfolds here and in her yard several states north of me. The wildflowers that grow in her yard are abundant. My hunting is limited to the walks in the nature preserve and greenway. She steps out her back door and has a forest floor filled with wildflowers. One of the best pictures she sent me is a patch of bloodroot. For such a lovely flower, naming it bloodroot does not do it justice. Beautiful white petaled flowers with a crown of yellow anthers appear above round green leaves. Its name comes from the sap that bleeds out of the stem if you break it.
The combination of a pure white flower and its blood appearing the week before Resurrection day seems symbolic. My sister also has a flower called bishop's cap which looks, yes, like a catholic bishop's headpiece. Similarly, the shape of my bluebells determined its name. It is a bell-shaped blossom, although I do think that's stretching it a bit. To me, the flower seems more like a lady's long ruffled skirt. They emerge in pink and purple buds and bloom sky blue.
Another spring flower scattered throughout my woods is the dog tooth violet, more commonly known as the trout-lily because its leaves are speckled like a trout. It is part of the lily family, not the violet family. It's called dogtooth because its roots look like the long teeth of a dog.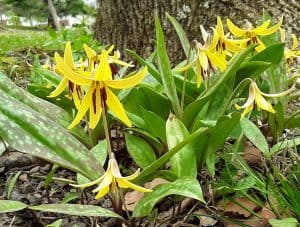 But perhaps my favorite misnomer for a lovely wildflower is toadflax. The regular toadflax is yellow, and its nickname is butter and eggs. Its wide-mouth supposedly looks like a frog, and toads sometimes live in the plants' shade. To me, they look like miniature snapdragons. You can open and close their mouth simply by pressing on the sides of the flower. So we have frogs and dragons all in one plant!
In Scotland, foxgloves grow wild on the moors. You will encounter them almost everywhere you hike in the highlands. But how did they get that name? It comes from the Anglo-Saxon word foxes-glew, meaning fox music because the flower's shape resembles an ancient hanging bell of the same name. Carl Linneaus thought they looked more like the tips of gloves, so he named them foxglove in 1753.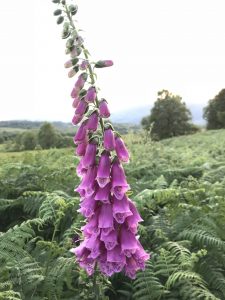 By now, you are probably wondering where I am going with all this? Names and their meaning are significant. Not unlike the plant world, we have proper names that reflect our family origin and history and nicknames that reflect affection or humor. Sometimes we are named after famous people or characters in literature. But our name and what image it calls up are strictly ours to preserve. We carry it through our lives. Our reputation is built around our name as it ties to our character. For many of us, names carry the connotations we've had with a good or bad experience.
Names are important in the Bible. They usually have specific meanings or, when pronounced, sound like something that had a special meaning. For example, Jesus means to save. An angel of the Lord appeared to Joseph in a dream, telling him not to be afraid to take Mary as his wife. Joseph was told to name their son Jesus because He will save the people from their sins. (Matthew 1:21) We use the name Yeshua also for Jesus.  It comes from Yahweh and shua (save).
We know that the Name of Jesus is "above every name." Think about this for a moment before reading on.
"Therefore, God elevated him to the place of highest honor and gave him the name above all other names,
that at the name of Jesus every knee should bow, in heaven and on earth and under the earth, and every tongue declare that Jesus Christ is Lord, to the glory of God the Father. (emphasis mine; Philippians 2:9-11)
This means that ultimately, everyone, believer or not, will declare Jesus Christ as Lord.
We also know that the name, Jesus, represents the full power of the triune God. Whatever we ask in His name, it will be done. (John 14:13) No one else on earth or heaven has this power.
The name of Jesus is a stumbling block to some, but the power of salvation to others. The power in the name of Jesus comes from on High.
He is far above all rule and authority and power and dominion, and above every name that is named, not only in this age but also in the one to come." (Eph. 1:21)
Jesus is the only name by which we can be saved.
"And there is salvation in no one else, for there is no other name under heaven given among men by which we must be saved." (Acts 4:12)
So, what is in a name? A lot. The precious, magnificent King, Jesus.
"On that day the LORD will become King over all the earth–the LORD alone, and His name alone."