I grew up in the country in a white clapboard farmhouse built around 1900. Both ancient and sapling trees filled the twenty-seven acres surrounding our home. I spent my days playing among these trees and climbing them. They bordered brooks where I would make dams and look for pollywogs, minnows, salamanders and turtles. I searched the woods for bird nests, often keeping track of their location so I could return in the fall to bring the prize home.
Our expansive front yard had three magnificent fir trees that soared a hundred feet above the lawn. We played dress-up and held tea parties under their sweeping limbs. They remind me of C. S. Lewis's descriptions of Narnia. In front of our house soared another majestic giant, a maple that shaded our front porch and offered billows of bright yellow leaves in the fall, blanketing our driveway. It provided a delightful soft crunching sound walking through them on the way home from school. Two sister maple trees in the back of our house gave us an enormous leaf pile where we would leap off an embankment into the gathered pile of leaves, often burying ourselves and the dogs.
For a while, a two-hundred-year-old cherry tree shaded the weathered red barn that housed horse stalls, feed bins, a chicken coop, hayloft, and a mysterious dark room where none of us ventured. Across the field from the barn was the orchard bearing McIntosh, yellow delicious, and strawberry apples. The deer favored the latter before they bedded down in the field at night or after raiding my dad's vegetable garden.
My father gave each one of us an apple tree. Mine was the McIntosh, a noble tree for climbing, and if I was careful to avoid the yellow jackets feasting on the dropped apples, I could sit there and watch the world around me almost undetected. The middle tree in that part of the orchard has a special memory for me as my horse decided one day to take off running in the orchard and a branch nearly toppled me. I still have a scar on my arm where the branch tried to throw me to the ground.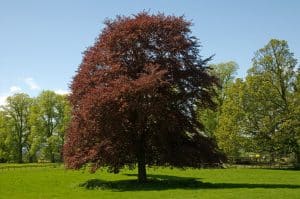 Two gigantic beech trees bordered our backyard lawn. Their copper leaves and silver bark always drew me in underneath the spreading branches. They were easy to climb as their lower branches almost touched the ground. A quick hop and I was up in the boughs of the tree and, once again, hidden from discovery.
Within the fields that surrounded our house, an ancient weeping willow stood as sentry to that part of the yard, its branches sweeping the field grass. The deer also liked it and would bed down there. Unfortunately, it wasn't easy to climb. But I spent many an afternoon closeted underneath its branches, snuggled in the soft grass where the deer had lain the night before. Patches of wild strawberries blanketed this field if you knew where to look. The sun shone on these little red gems offering a sweet fragrance.
I feel so blessed to have had a childhood spent among the fields, brooks, and forest where these treasures of nature were my daily friends. They offered endless entertainment for a small child growing up in the country. And they kept me tethered to our Creator God who designed and gifted them to me.
"After all, if you were cut out of an olive tree that is wild by nature, and contrary to nature were grafted into a cultivated olive tree, how much more readily will these, the natural branches, be grafted into their own olive tree!"
Romans 11:24 NIV