As I stand on top of these mountains, I am filled once more with the wonder of God's creation. Gazing over miles and miles of land, green and blue waves as far as the eye can see, I am again filled with peace. Why do the mountains have this effect on me? Maybe it's my Scottish heritage? Or perhaps it is the DNA that the Lord placed in me before the beginning of time to love His creation and to sense His presence.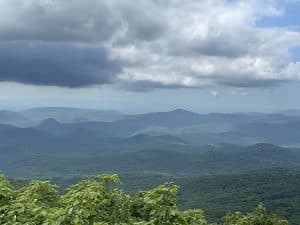 I find the enormity of these ridges steadying. They are solid, velvet-clad with greenery, and topped with blue sky and cumulus clouds. There were a few sprinkles in them today, but mostly a lovely summer day in the mountains. The scripture says that the clouds are the dust of His feet. Looking out over the mountains and watching the storm clouds start to appear, I've been thinking of what it was like for Enoch to walk with God in the heavenly realms. He views all of this beauty every day from high above.
My mornings start with bird songs. A sweet junco is singing in the tree off the deck, keeping up his paces with a house wren. The junco loves dried oatmeal. I happened to drop a tiny piece, and he immediately ate it. So I've been sprinkling some on the deck and the railing. Looking out my window from my bedroom, I saw two fawns browsing in the grass. One lay down for a nap while the other kept eating. I watched him as I was curious about what he would eat. He also finally collapsed his legs in an orderly fashion and lay down in the grass. I didn't see the mother anywhere, but she might have been out of my range of view. I did see two fawns and a mom later on my way up the mountain. Maybe it was the same family. It was a delight to stand and watch them, noting the beautiful stripes and spots on their backs and alert ears.
Each day I try to find a hiking trail that leads to a vista across the Blue Ridge. That usually means clambering over roots and large boulders. But the woods are filled with wildflowers even in July. The rhododendron is in full bloom now and grows on these rocky hillsides.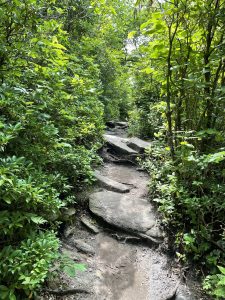 Some days, I watch hawks and eagles as they glide on the updrafts. I'd love to be one of them soaring in the sky. One day a hawk swooped right over my head, carrying his mole for lunch.  If it weren't for the many farms with tin roofs below and the occasional house, I could pretend I was an explorer in these mountains for the first time. I cannot imagine what it was like to try and cross these ranges on horseback or wagon. It's easy for me to see where the valleys are from above, but not if you are making your way through dense forest.
I'm happy exploring new roads that wind their way to the top of a mountain. Usually, they are gravel, and I have to turn around when they get too rough. Often they turn into dirt tracks. But I am never disappointed. One road had a sign on it that said, "rough road ahead, take out your dentures!" Ah, mountain humor at its best. But at the end of the day, I always return to this one vista. I'm content to gaze out at the expanse until I've imprinted it upon my memory.
One morning I was slow getting moving, finally relaxing after pushing so hard for weeks. It felt good to sit on the deck and stare at the mountains and clouds. But my curiosity ultimately got the better of me, and I took off exploring a road that wound its way up a steep ridge. Lovely fields blanketed some of the vistas. An enormous tree farm covered hundreds of acres with its uniform lines of fir trees, so different from the surrounding woodlands. A new development was being built nearby. The electronic gates were open, but I was afraid that I might get in there and not be able to leave, so I parked and walked up the mountainside on the gravel road. The view from the top was spectacular. Several homesites were staked out, perched on top of the mountain. I can only imagine what it would be like to wake up every morning to that view.
Standing on top of a mountain, I feel the freedom that the birds must feel as they soar through the air. I am a bit envious. But I sense the enormity of the sky and the heavens above when I'm standing on top of a ridge. I feel His presence so clearly and fully up here. It's such a testimony to His faithfulness.
"Before the mountains were born or you brought forth the whole world, from everlasting to everlasting you are God."
Psalm 90:2 NIV