Some of the hazards and joys of hiking in North Carolina are the different tree roots I encounter. I am continually amazed at the ability of some trees to survive the rocky terrain. Sometimes I'm also surprised at my ability to climb over these obstacles!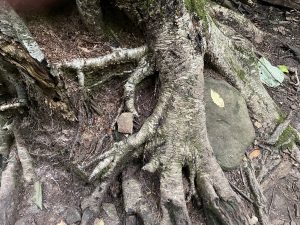 This past year, during a late winter storm, one of the enormous oak trees on my daily walk was felled by high winds and four inches of pelting rain. As it lay on its side, I gazed at the circle of roots, wondering what exactly caused this monster to fall when it wasn't even dead. It appeared that the root system wasn't strong enough to hold out against the tension of wind in its canopy of leafy branches. I've seen what a microburst can do to a series of trees, but this was merely a late winter storm. When the park workers cut it up, its core was healthy. And in the spring, it began to send out new shoots. The will to survive still existed within that tree.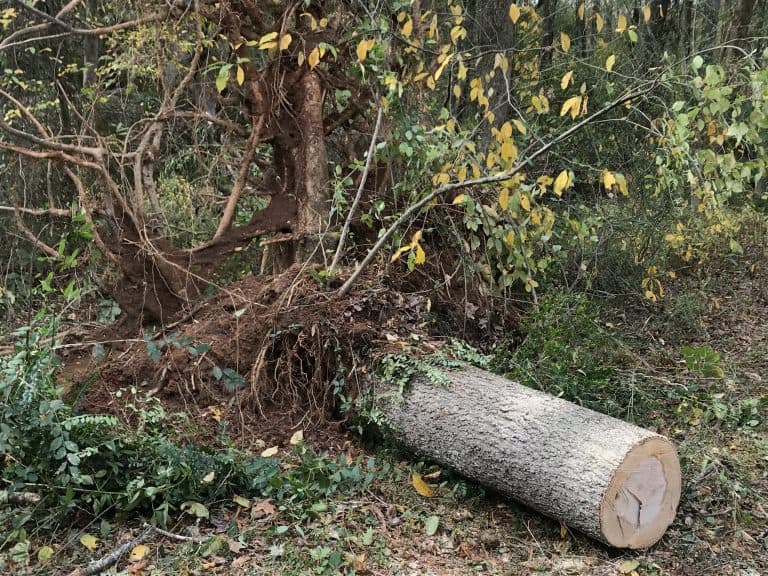 Last week when I was in the mountains climbing Rough Ridge, a steep trail that looks out over the Blue Ridge mountains, I often found myself trying to avoid gnarled tree roots while I climbed over large rocks. Wherever there are dense patches of rhododendrons, there will be many roots on the ground. But on this climb, the trees hugged the hillside and only allowed passage with the utmost care.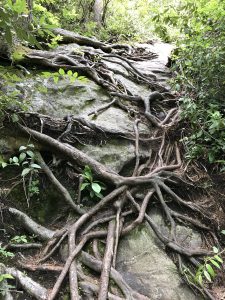 Sometimes when I'm hiking in the nature preserve, I look at the enormous trees that have been living in the forest for one to two hundred years. It would probably take three of us with our arms extended to encircle them. The sheer immensity of their trunks testifies to their age. But I also notice how wide they spread their roots — in all directions — and how thick they are. I'm sure underground they are just as strong if they've survived so many hundreds of winters, summer storms, and hurricanes. Probably the size of the root system is at least equivalent to the size of the canopy.
Healthy trees above are also healthy below. If they feed on the proper nutrients, they will live long lives. There is some evidence that trees communicate with each other via their intertwining root systems. This doesn't surprise me in the least. But it did make me ponder how my own roots nourish me. Human beings don't have the same permanent grounding, but we do put down roots, and we do embed ourselves into a place or culture.
The Bible is replete with references to God establishing roots and also uprooting. It is no accident that we are told to put down deep roots in the truth and in love. Just like the trees cannot produce leaves and fruit without being rooted in good soil, so our lives reflect what we are grounded in and the source of nourishment we bring into our lives. If we starve ourselves and do not consume the Word, we will not stand firm. If we enjoy poor company, we may lose our ability to discern truth and suffer loss when trials come. We were designed to put down deep roots in Christ to ensure we have a source of living water. If we place our trust in the Lord, He becomes our foundation and nourishment. So when the storms of life come, and they will, we will bear the high winds and pelting rain, the troubles, and the tears. Read how the prophet Jeremiah said this long ago.
"But blessed are those who trust in the LORD and have made the LORD their hope and confidence. They are like trees planted along a riverbank, with roots that reach deep into the water. Such trees are not bothered by the heat or worried by long months of drought. Their leaves stay green, and they never stop producing fruit."*
This passage also reminds me of Revelation, where John describes the tree of life that grows on either side of the river flowing from God's throne. It bears 12 months of fruit, and its leaves are for the healing of the nations. **
So the next time you are out walking or hiking, take note of the trees around you and their age and establishment. Contemplate your own roots and decide to ground yourself in everything that is of Christ and nourish yourself with His Word.
"I pray that out of his glorious riches he may strengthen you with power through his Spirit in your inner being, so that Christ may dwell in your hearts through faith. And I pray that you, being rooted and established in love, may have power, together with all the Lord's holy people, to grasp how wide and long and high and deep is the love of Christ, and to know this love that surpasses knowledge—that you may be filled to the measure of all the fullness of God."
Ephesians 3:16-19 NIV (italics mine)
* Jeremiah 17:7-8 NLT
** Revelation 22:2 NIV