One day, while I sat by a mountain stream, I thought about what the world will look like when Jesus returns and makes it all new. The prophet Daniel spoke of this, and Jesus also prophesied His second coming in the Gospel of Matthew. "Then will appear in heaven the sign of the Son of Man. And then all the peoples of the earth will mourn, and they will see the Son of Man coming on the clouds of heaven with power and great glory." (1 Emphasis mine)
Just as Jesus was taken up into glory, so He shall return in the clouds. In Revelation, John expands upon this saying, "every eye will see Him." (2) That means every eye, regardless of where you are on earth. No exceptions. No one will miss it, believer and non-believer. But we are also warned—be ready, because it will happen like a thief in the night. (3) Once satan and his demon cohorts are bound and thrown into the lake of fire for eternity, believers will live with Him in the new heaven and the new earth. But first the old heavens and earth will be destroyed. "The heavens receded like a scroll being rolled up, and every mountain and island was removed from its place." (4)
"See, I create new heavens and a new earth. The former things will not be remembered, or come to mind." (5)
So what will that look like? We don't really know, but we have some clues, from the book of Revelation. Right now, the earth is still under a curse. That means that even though my garden is lovely with its English roses and other flowers and shrubs, it's still subject to the present laws of nature and everything dies at the end of its allotted lifecycle. Even though the mountains are majestic, covered with pine forests and wildflowers, they too will be rolled up and disappear. "All the stars in the sky will be dissolved and the heavens rolled up like a scroll; all the starry host will fall like withered leaves from the vine, like shriveled figs from the fig tree." (6) And while we know about the mustard seed, fig tree, vineyard, and sparrow, the Creator behind these parables is what endures into eternity.
Heaven will come to earth—a new heaven and a new earth. There will be no need for the sun, as the Lord will be our light. There will be no darkness. Jesus will be here with us, ruling and reigning with God the Father and the Holy Spirit. "And I heard a loud voice from the throne saying, 'Look! God's dwelling place is now among the people, and he will dwell with them. They will be his people, and God himself will be with them and be their God.'" (7)
We know that there is a river that flows from the throne of God that is crystal clear (and probably not filled with big rocks like our mountain streams). And on either side of the river, the Tree of Life grows with fruit for every season, and its leaves are for the healing of the nations. It will be as glorious as Eden.
While we may speculate and hope about what heaven will look like, its visual importance is not as important as the spiritual transformation under the rule and reign of Christ. Righteousness and justice are the foundation of His throne. Sin will be no more. "He will wipe every tear from their eyes. There will be no more death or mourning or crying or pain, for the old order of things has passed away." (8)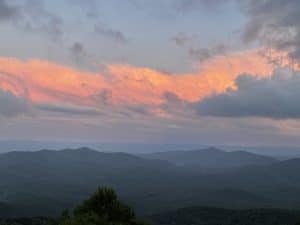 So you may ask, why is she telling us this? Because, while we are here now, we focus on the natural realm. There is much we can learn about our Lord from His creation. And most of what I write about is in that realm, as it reveals aspects of His character. But the genuine delight will be when we are no longer subject to sin and death and the present natural realm. Whatever the new world will look like, I'm sure it will be magnificent. But at its heart will be our Savior, Father, and Holy Spirit. Nothing else really matters.
"This is what the LORD Almighty says: 'In a little while I will once more shake the heavens and the earth, the sea and the dry land."
Haggai 2:6 NIV
Matthew 24:30 NIV
Rev 1:7 NIV
5:2 NIV
Rev 6:14 NIV
Isaiah 65:17 NIV
Isaiah 34:4 NIV
Rev 21:3 NIV
Rev 21:4 NIV