Have you ever bitten off more than you can chew? I'm not talking about food. Rather taking on a project or task, or in this case a hike that was really more than my ability. I recently did that and learned a good lesson in the process. I hiked to the base of Cullowhee Falls (or High Falls) in a deep gorge in the Smoky Mountains. It struck me when I was about a third of the way down that the trail was all downhill and would thus be all up hill on the return. But that didn't stop me from continuing on.
I remember hiking with my dad on mountain trails. We'd eagerly head into the woods climbing up a winding mountain path. About two hours into the hike, he would often say, "I think it may be time to turn back. I don't think we can make it to the top of the mountain today." I'd respond, "Can we just go around the next corner?" And of course, off we'd go for another ten or fifteen minutes. Sometimes I'd be the one to say, "Should we turn back?" He'd respond, "Let's just see what's around this corner, maybe there'll be a view." Finally, after a good amount of time and trail has passed, he'd say, "I think we have to head back. Mom will worry." That usually got me, and we'd turn around.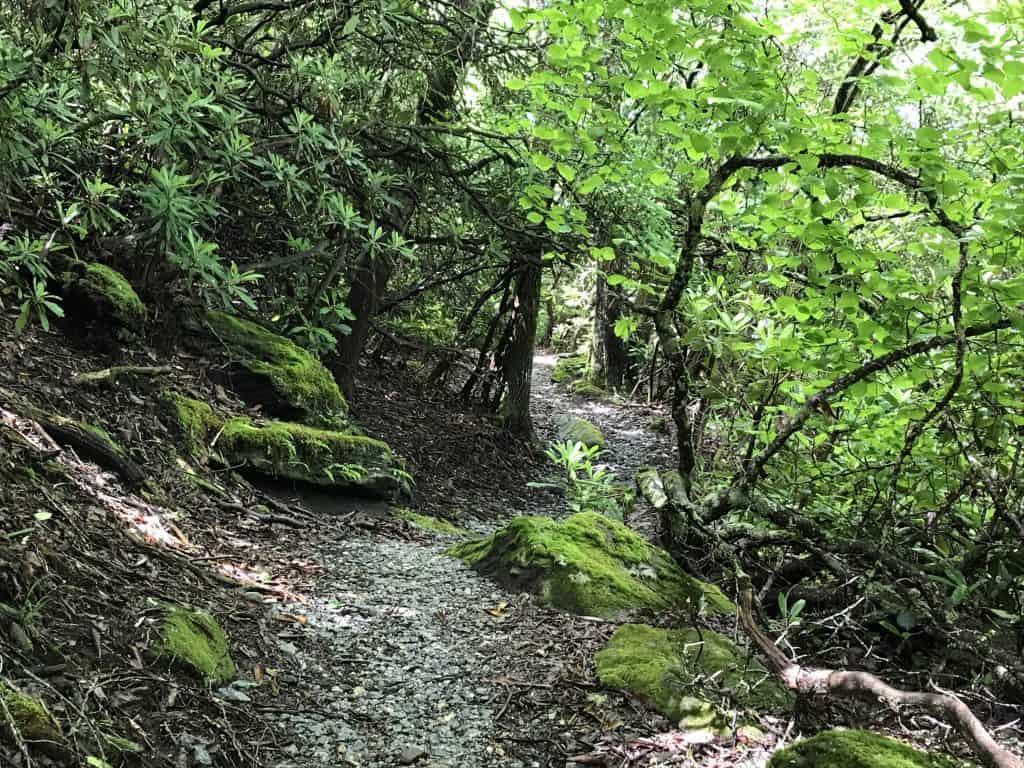 The first half of the trail to Cullowhee Falls is gravel, which then becomes packed dirt with wide log stairs made of cedar tree trunks and primitive handrails. There were a few level places on the trail, but not many. I passed several people hiking back up. One woman looked quite done in. That was my first clue. There were plenty of parents and kids hiking back up the trail who had made it to the bottom. They said the falls were worth the hike. I kept thinking sooner or later I had to get to the bottom of the gorge. The noise from the waterfall was getting louder.
About three quarters of the way down, the trail becomes stone stairs. Not carved out steps like some of other trails I'd hiked, but rather stones arranged for you to climb down. Every step is a balancing act. Early on, the stone steps are wide with a variety of choices on how to proceed, and there is a handrail. But once you traverse deeper into the gorge on the last phase of the trail, the steps are vertical and there are no handrails. I could hear the waterfall roaring, but I couldn't see it. And what will it be like coming back up? I'll just take it slowly. Besides there are lovely purple flowers of the wild raspberry and some great lichens along the way.
It was magnificent at the base. The falls are split into two levels. There were a lot of families enjoying the falls and the river. The kids were climbing all over the big rocks, jumping and swimming in the deep pool a little way down the river. The footing was precarious at best, so I didn't attempt to cross the river to get a better photo. But I was tempted. It made me wish I'd worn surf shoes and a bathing suit like the kids. I've since learned that you can hike another trail to these falls and end up on the opposite side of the river.
After spending some time enjoying the scenery and the families, it was time to head back. The hike back up pushed me to the max of my strength. It didn't seem as long, probably because I wasn't trying to figure out how much farther I had to hike. But that said, I had to stop often just to catch my breath as my heart was getting more cardio than it was used to. Not a good place to have a heart attack unless you want to be airlifted out of the gorge. Tricky at best. Every time I rested, I remembered to look carefully where I was going to sit. There are critters that make this forest their home that I didn't want to disturb.
The hike back up the stairs is steep. In some places, the steps are so high only the young kids that passed me seemed unfazed by the steep ascent. One mom following her kids was having a hard go of it, holding onto the rocks that lined the sides and pulling herself up. I was doing the same and wishing I had four legs like a dog.
In all, 500 feet make for a lot of vertical gain. Glad I didn't know that until afterward. Not that it would have stopped me. Finally, the steps give way to a trail that is flat for about 50 feet then onto the steps made of logs. At one point I was making my way up these steps and saw a rattlesnake winding its way into the side of the trail. Ugh. Guess that was a reminder to me that maybe I'd bitten off more than I could chew. His rattle was small and didn't sound like the ones I encountered horseback riding in the Sonoran Desert. Good to know. Maybe he wasn't fully grown. I didn't hang around to chat.
By the time I made it to the top, my legs and back were tired. Once back in the car, I said a silent prayer of thanks to the Lord for getting me out of another jam. Next time, I'll be more careful of what I take on. (One can hope anyway.) A little bit more of an adventure than I had bargained for. But such a good lesson in trusting God, asking forgiveness for taking on more of a challenge than I should have, and knowing that He was with me, even in my imperfect decision making.
"It is God who arms me with strength and keeps my way secure. He makes my feet like the feet of a deer; He causes me to stand on the heights."
2 Samuel 22:33-34 NIV
Want to see more of this trail? Follow these links. The first link is my short video of the falls, and the second one shows the variations in the trail as well as the before and after phase when Duke Energy releases water from the dam on Glenville Lake into the Tuckasegee River and down the falls.
Here's a quick video of the falls: https://youtu.be/QR4ys8NB98M
Go to this site for more photos of the trail and to download the video of the falls when they release water from the dam. Note: it takes a while to download the video, but it's worth it.