Every day as I walk the pathways through the woodlands, I find lovely gifts the Lord places there to encourage me. I think He does it because it pleases Him. But it also keeps me focused on listening and looking around to see what He will reveal. More than once, His artistry has displayed a heart molded out of stone or plants. This always makes me ask myself, what does God want me to learn about his heart today? Here is what He has been saying.
Our precious scripture tells us, "The steadfast love of the Lord never ceases." (1) In a world where nothing seems steadfast, this is a characteristic that should brighten your heart. Here is one Christian's definition of steadfast.
"We could define steadfastness as having a firm loyalty or constant and unswerving dedication to something or someone. It is fixed or unchanging and solidly established so steadfastness is immovable, irrefutable, unchangeable, unalterable, and is completely and utterly dependable. That is a great definition for God as He says I am the Lord and I change not (Mal 3:6)." (2)
Sometimes I look at the giant trees in the nature preserve and wonder how anything can take them down. Then the next time I'm there, I see an enormous tree that has fallen during a storm. Nothing is steadfast except the Lord. Just as His heart is steadfast toward you, so He desires your heart to be steadfast upon Him and to love the way He does.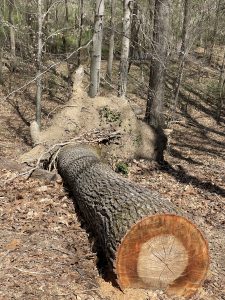 But to have a heart like the Lord is more than just being loving and compassionate. It means praying for changed hearts, especially when they belong to people who are doing evil, working directly against God's laws and desires, and when they are enemies of God. I am reminded of this when I pray about Ukraine and Russia. "But I tell you, love your enemies and pray for those who persecute you, that you may be children of your Father in heaven." (3) This is one of the hardest things to do in the Christian walk. Only with the help of the Holy Spirit can we do this. We are all enemies of God when we refuse to believe His truth, or actively rebel against Him. The triune God still loves us enough to save us from ourselves. His heart is pure.
The Lord's wants everyone to be saved and come to know the Truth. (4) He is steadfast in this. This has been His desire from the very beginning, when He knew Jesus would be slain to restore our relationship with Him. While we were still sinners (enemies), Christ died for us. (5) If the Lord can steadfastly love us, desiring to bring us to repentance, why would we choose anyone, or any other thing, including yourself, to be Lord of your life? He gave His Son's life so you might live. Steadfast. Forever.
"For it is by grace you have been saved, through faith—and this is not from yourselves, it is the gift of God"
Ephesians 2:8 NIV
Lamentations 3:22 NIV
Jack Wellman, Top 7 Bible Verses About God's Steadfastness, July 26, 2015 Christian Crier
Matthew 5: 44-45 NIV
1 Timothy 2:4 NIV (emphasis mine)
Romans 5:8 NIV