One of the first blogs I wrote was about the artistry of God. As a new season unfolds and my flower garden begins its parade, I've been contemplating His artistry once again. In spring and summer, God's creative energy bursts forth and sparks my appreciation for His creative paintbrush.
One of the first things I notice is the variety of colors. Many of the first spring flowers are the color of sunshine. It's as if the Lord marks our move out of the gray and brown of winter. Yellow forsythia, daffodils, and gold wildflowers emerge against bright green leaves and a bright blue sky washed by the spring rains.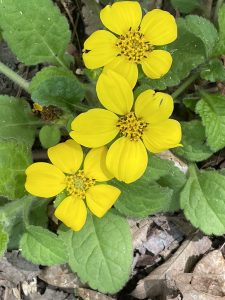 Many of the spring flowers that grace our gardens in North Carolina don't bloom up north until summer. Yellow buttercups now blanket our fields. Purple iris and clematis appear in people's yards and the blush pink of my David Austin roses signal with their buds and blossoms that the display has begun. One of the charms these old-world roses hold is the multiple layers of petals that form concentric circles. Each petal is perfectly placed in juxtaposition with its neighbor. Having painted roses, I can tell you it's impossible to render the same perfection and beauty on a canvas. They also hold a fragrance that is unlike any other rose.
Part of my fascination with flowers is the formation of buds. In some cases, the buds are as intricate in design as the flowers. I love catching the flowers as they first bud. Then I get to watch them slowly unfold. The wild sunflower that borders my walk begins as a lovely star-shaped bud then develops petals that fan out like rays of sunshine from a central crown. Last week, I spoke about God's geometry. This bud is an excellent example of the shapes the Lord uses to create his garden.
Other flowers have distinctive petals that emerge slowly. The thistle swells and bursts open into a purple cushion of tubular petals. But some of their cousins take the design prize. They look like spikey crowns of red and green, a design within a design. One wonders how the bees get to the pollen with so many lance-shaped petals.
Other flowers also have unusual petals. Some of my favorites are the spoon-shaped ones, such as the chrysanthemum and African daisy. Others have intricate patterns inside the flower, such as the purple foxglove. The next time you encounter a flower, wild or cultivated, take time to appreciate the intricate beauty God has laid out in its design.
Sometimes in nature, the juxtaposition of shapes also catches my eye when I am walking. Right now, the leaves display different kinds of planes next to each other. We often take for granted the leaves around us because they are so abundant. But each tree has a specific leaf pattern. If you've ever tried to learn to distinguish between oak tree leaves, you begin to see how similar yet different they can be.
Enjoy your time watching the Lord unfold the creation of spring once again. All for our pleasure. And for His glory. 
"See! The winter is past; the rains are over and gone. Flowers appear on the earth; the season of singing has come, the cooing of doves is heard in our land."
Song of Solomon 2: 11-12 NIV